About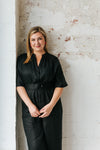 Rachel Larsson BHSc Naturopathy + BPH Nutrition I know what it's like to have fallen through the cracks of the healthcare system.
I'm a qualified Naturopath and Nutritionist facilitating meaningful change in others wellbeing through increasing an awareness of mind, body, and spirit.
I owe my deep appreciation and respect for nature to my roots being raised on a farm. As I recover through my own health struggles, my one major takeaway from the journey of wellbeing is that a good practitioner that is aligned with your values along with the support of family and friends is all you need to create and sustain positive change. 
I'm dedicated to helping my patients reverse the story that feeling sick is just their normal.
WORK WITH ME


Collaborations
I've collaborated with some of the most renowned businesses in wellness across Australia. Discover discounts, free articles, and podcasts.
SEE MORE