Choc Mint Vegan Cheesecake (Gut Expert Approved!)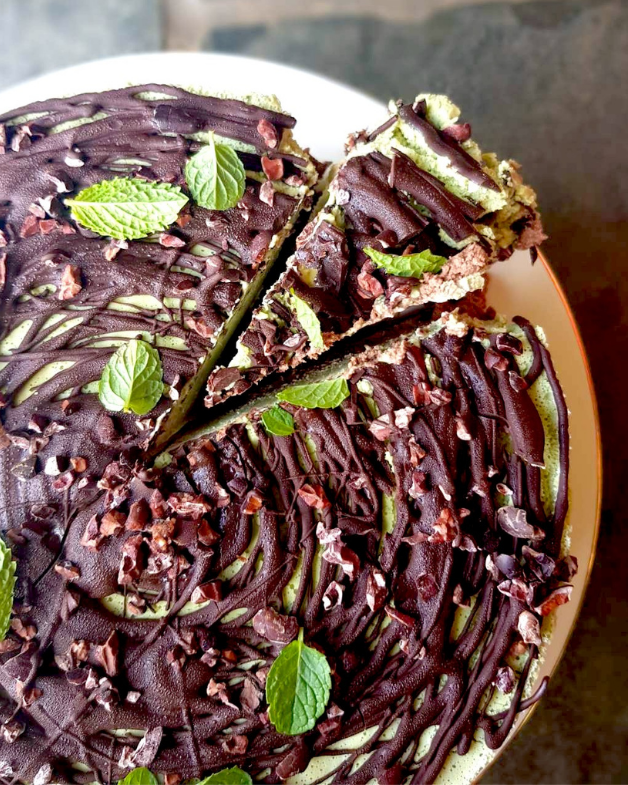 What do you do when you LOVE desserts, but you…
a) have a sensitive gut, and
b) want to choose something your Gut Expert/Naturopath will approve of?
 The answer? Actually, it's easy… 
…You can enjoy this Choc Mint Vegan Cheesecake, as it's loaded with gut healing ingredients and just happens to be approved by me – a Gut Expert and Naturopath in Melbourne, Australia. 
It has my seal of approval because it's made from an abundance of healing foods that send love to the digestive tract. In particular, it's rich in essential minerals, high in fibre to prevent constipation, and it contains peppermint oil to help relieve stomach cramps, bloating and flatulence (FYI Peppermint oil is often used by those with Irritable Bowel Syndrome).
Another reason this Choc Mint Vegan Cheesecake gets my Gut Expert 'rubber stamp' is because this veggie-containing recipe (don't worry, you can't taste them) caters to those with gluten, dairy, egg and soy intolerances/allergies, plus it's vegan-friendly. 
That's a whole load of gut healing vibes living inside this delicious and nutritious dessert. 
Now I'm not sure what recipes my gut specialist colleagues or other naturopath's in Melbourne are sharing with their patients, but I have a feeling that few of them are as satisfying and nourishing as this one. 
Here's how to make this gut healing winner of a dessert: 
Choc Mint Vegan Cheesecake
Ingredients
Base
1 C medjool dates
2 C raw hazelnuts ground
1/4 C raw cacao powder
1 Tbsp melted coconut oil
Pinch of salt
Filling
800 ml coconut cream
250g cashew butter
1/3 C rice malt syrup
1/2 C raw cacao powder
Peppermint essential oil, approx 3-5 drops (or to taste)
15 spinach leaves or natural green food dye
Pinch of salt
Decoration
Dark chocolate - good quality of choice e.g. 85% Lindt or a vegan alternative.
1-2 Tbsp cacao nibs
Fresh mint 
Method
Making the Base
Line a cake tin with baking paper
In a food processor add ground hazelnuts, dates, cacao, coconut oil and salt in a food processor and blend until crumbly in texture.
Evenly press mixture into the cake tin, and place the tin in the freezer while you make the filling.
Making the Filling
In a blender/nutribullet add coconut cream, cashew butter, rice malt syrup and salt. Blend until combined.
Split the filling into two even quantities.
To one half of the mixture add cacao and blend until smooth. (note: remaining mixture can stay on at room temperature and is best not to be put into the fridge. Just ensure mixture if covered or the lid is on)
Pour the chocolate filling into the base and set in the freezer for at least 2 hours, or until firm.
Whilst the chocolate filling is starting to firm, make the peppermint filling.
Add to the remaining half of the mixture add the remaining spinach leaves or food colouring and peppermint oil and blend until smooth.
Carefully pour the filling onto the chocolate mixture to create two defined layers.
Place in freezer overnight
Decoration
Take the dessert out and create a decorative pattern with the melted dark chocolate,  fresh fresh mint and cacao nibs.
When serving, take the dessert out for 30-1 hour until the mixture starts to soften. Treat this cheesecake like ice-cream; too hot and it will become liquid and too cold and will be too solid.
Notes
* You can make your own cashew butter by soaking 2 cups of cashews in water for 24 hours. Drain and blend in a Nutribullet (or something similar) until smooth – adding some water one tablespoon at a time to help, if necessary.
Storage. This dessert will last 7+ days in the fridge, a few months in the freezer.
Friends, if you try this recipe I'd love to know what you think, especially if you have a sensitive belly or are on a gut healing journey yourself.