Chilli Non Carne (Help Your Leaky Gut Using This Recipe)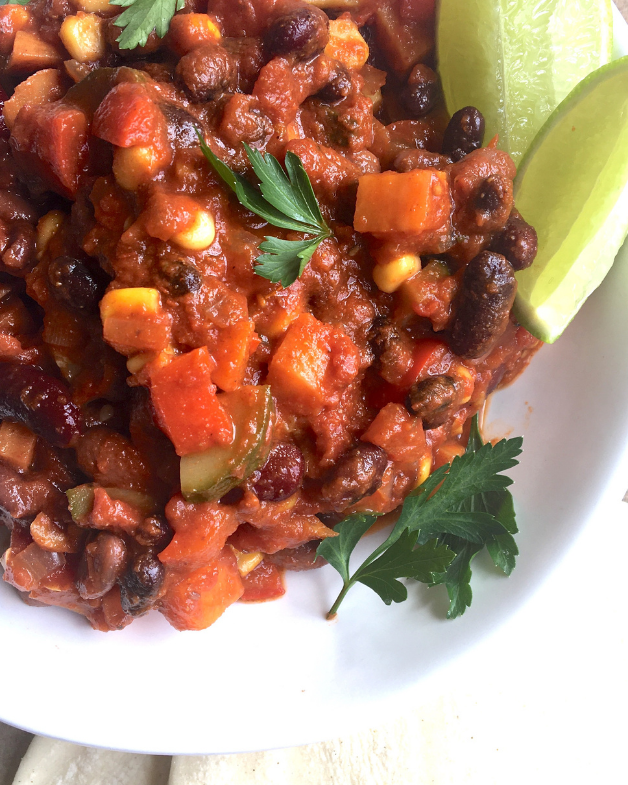 Did you know that one of the BEST ways to help treat leaky gut is to minimise your red meat intake?
It's true… but, before you make assumptions and think that the best Naturopath in Melbourne (a cute title given to me by my client this morning) is suggesting you become vegetarian – think again.
What I'm saying is that eating too much red meat when you're dealing with gut issues, especially when treating a leaky gut, can make your condition worse. It's because red meats, which are often high in fat, are associated with increased levels of inflammatory markers. And considering there's already excessive digestive inflammation in those with leaky gut, being mindful of your red meat intake is one easy way to accelerate your healing journey.
(Hmmm, I explained this leaky gut/red meat connection to my client this morning. Maybe that's one reason they called me the best Naturopath in Melbourne. Okay, sorry – I think I'm overusing this term… I'm just in a playful mood as I write this, my friends).
Knowing this dietary healing secret means you can treat leaky gut much more efficiently and effectively. 
It also means that your standard Chilli Con Carne recipe isn't an ideal meal choice, particularly if you've only just begun gut healing.
Don't worry though, as I have a delicious alternative for you that's both satisfying and beneficial if you're wanting to treat leaky gut.
Introducing, Chilli Non Carne!
This meatless version of the classic dish substitutes animal protein for high fibre beans and legumes, and it's also packed with vegetables. You might be surprised that this healthy combo of ingredients also helps to:
Optimise your B-vitamin production to improve physical and mental wellbeing (1)
Encourage your butyrate production to accelerate gut healing, and
Decrease your endotoxin levels to help get inflammation under control (2).
BONUS BENEFIT: Swapping meat-based meals for plant-based is also super good for the environment. It's been reported that reducing meat intake can help to reduce greenhouse gas emissions, deforestation, and even help slow soil degradation. So, unofficially, you could say this Chilli Non Carne recipe is an eco-friendly version of the original.

Chilli Non Carne
Servers: 3-4 people
Ingredients
1 Tbsp extra-virgin olive oil
2 cloves garlic, crushed
1/2 red onion, diced
1 heaped tsp smoked paprika
1 heaped tsp ground cumin
1/2 heaped tsp dried oregano
1/2 heaped tsp dried ground coriander
1/2 tsp cayenne pepper (optional)
1/2 red capsicum, diced
1 small zucchini, sliced
1/2 small sweet potato, chopped
1/2 can sweet corn
1 x 400g of diced tomatoes
1 x 400g tins of beans, such as kidney, chickpea, black beans, cannellini
Salt and pepper
  Method 
Heat oil in a large saucepan over medium-high heat and add onion, stirring occasionally, for 5 minutes or until onion starts to brown.
Add garlic and spices. Cook and stir for 1 minute or until fragrant.
Add tomatoes, sweet potato, capsicum and zucchini and simmer on a medium heat with the lid on for 30-35 minutes or until vegetables are tender.
Add corn and beans and cook with the lid off for 10-15 minutes
Season with salt and pepper.
Freezes well. Keep for up to 5 days refrigerated. 
Serving options: Soft corn tortillas or corn chips with avocado, sour cream or coconut yoghurt, fresh coriander and lime.
 
Take it from me, the best Naturopath in Melbourne (haha, sorry that's the last time – I promise!), it's worth taking the time to experiment with meatless dishes when you're treating leaky gut. Based on the abundance of clients I've helped heal this issue, I can confidently say that those who swap meat-heavy diets for ones that are lower in meat, are the ones who have an easier time healing their gut and improving their overall wellbeing.