Mind-Gut Connection Smoothie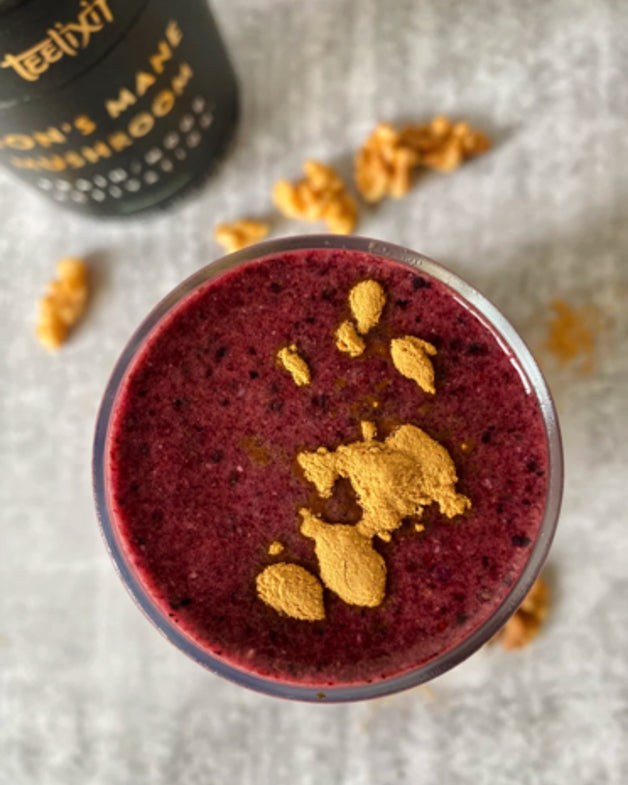 I thought long and hard about what to include in this brain boosting gut hugging smoothie that ticks all the nutritional boxes, tastes good and uses the amazing mushroom Lion's Mane from Teelixir.
If you aren't familiar with Lion's Mane, it is an incredibly powerful medicinal mushroom with a history of used in Traditional Chinese Medicine. It has many beneficial functions, but it's most used for it's amazing nootropic actions, meaning it may improve cognitive function, such as memory, focus creativity, or motivation.
So how does this smoothie help my gut and my brain?
Teelixir Lions Mane is a nootropic
Blueberries contain antioxidants called proanthocyanins that protects brain cells and food your good bacteria.
Walnuts and chia seeds are rich in alpha-linolenic acid, a plant-based omega-3 fatty acid for brain health
Locako's Natural Pasture Raised Collagen Collagen or Marine Collagen is hypoallergenic and amino acid rich for gut healing
Spinach and zucchini for extra greens to provide fibre and vitamin and mineral needs for good health
This recipe is low sugar, gluten free, dairy free, FODMAP friendly, optional vegan friendly.
Ingredients
1/2 -1 tsp Teelixir Lions Mane
1/2-3/4 C blueberries (fresh or frozen)
1 Tbsp walnuts
1/2 Tbsp chia seeds
10g Locako's Natural Pasture Raised Collagen Collagen or Marine Collagen 15% off with the code RACHEL15 HERE (If vegan, remove collagen and optionally replace with your favourite gut friendly protein powder)
1 small handful baby spinach,
3-5 cm chunk zucchini
1 C water

Method
Place all ingredients in a blender and blend until smooth
Pour in your favourite cup and enjoy!