Raspberry Crumble Bressert (What Nigella Lawson Won't Tell You About This Recipe)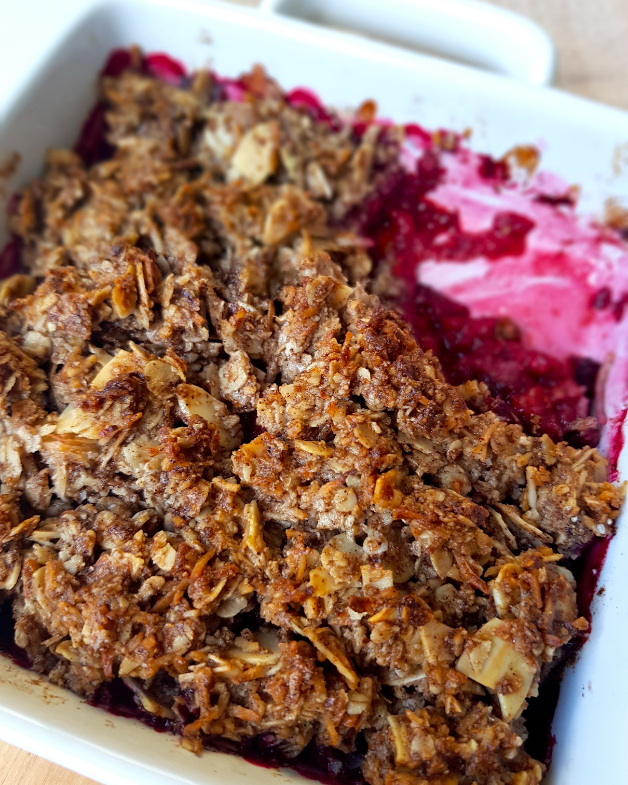 While Nigella Lawson is Queen of the kitchen, she's not exactly the person you'd consult when looking for a sweet recipe that treats leaky gut or SIBO.
Instead, you'd turn to a Gut Expert or Naturopath (like me) who intimately understands the connection between the food you eat, how it's digested, and the impact it has on your health.
Enter this gluten free Raspberry Crumble recipe. Or, as I prefer to call it, Raspberry Crumble BRESSERT – because it's bursting with so much gut-loving nutrition that it's ideal for both breakfast and dessert.
So, what makes my Raspberry Crumble Bressert more gut-loving than Nigella Lawson's recipe?
Firstly, let's acknowledge that Nigella's version is likely mouthwateringly delicious and that you'd probably struggle to stop at one serving. But, how would your gut react to a version that contains multiple gut irritant ingredients?
If you're looking to treat leaky gut or SIBO, my Gut Expert opinion is that you'd probably end up bloated, full of gas and looking for the nearest toilet – asap!
I don't want you to endure unnecessary stress when eating sweet treats, so let's look at why my Raspberry Crumble Bressert recipe is great for treating leaky gut, SIBO and other digestive issues.
1.Polyphenols
Raspberries are loaded with these natural compounds, and it's understood in the gut health community that consuming polyphenols can:
alter the species that make up your gut's bug population
support the growth of your good bugs Bifidobacterium and Lactobacillus spp. by acting as a prebiotic (food for them)
kill bugs and aid in destroying unwanted gut bacteria that could be causing you trouble, such as Clostridium histolyticum
potentially help with weight loss due to their ability to change the gut microbiota, either through supporting bacteria belonging to the Bacteroides community rather than Firmicutes, or through the end products of colonic metabolism of polyphenols (1).
2.Gluten Free
Several studies have demonstrated that gliadin (in gluten-containing foods) can enhance intestinal permeability, thus leading to a "leaky gut syndrome" in predisposed people (2). This also seems to be the case in people with coeliac disease and IBS.
3.Dairy Free
Dairy sensitivities are HUGE these days. Symptoms generally arise because the body struggles to properly digest the proteins (casein and whey) and/or sugars (lactose) in milk. When these aren't broken down properly, an array of gut inflammation ensues and, over time, damage to the gut lining can occur.

Drum roll please….
Here is my gut expert-approved Raspberry Crumble recipe that, in my humble opinion, rivals Nigella Lawson's.
 
Raspberry Crumble Bressert
Serves: 3-4
Ingredients
    3 cups of raspberries
    1 1/2 tsp cinnamon 
    1 1/2 Tbsp chia seeds
    1/2 C oats (can substitute for quinoa flakes)
    1/4 C shredded coconut
    1/4 C almond meal
    1/2 C almond flakes
    1 Tbsp coconut oil (softened not liquid)
    1 Tbsp rice malt syrup
    salt pinch (optional)
Method
Preheat oven to 180'C
In a baking dish add raspberries, 1/2 tsp cinnamon and chia seeds and gently stir until combined.
In a bowl add oats, shredded coconut, almond meal, almond flakes, coconut oil, rice malt syrup, 1 tsp cinnamon, salt and stir until it comes together and forms a crumbly consistency. 
Crumble mixture the topping to cover the raspberries in the baking dish.
Bake in the oven for approximately 30 minutes or until the crumble is golden brown. 
Serve hot or cold with yoghurt, ice-cream extra nuts as seeds or as is.

Nigella Lawson once said, "I despair of the term 'clean eating'...it necessarily implies that any other form of eating – and consequently the eater of it – is dirty or impure and thus bad."

Honestly, I'm not a fan of this quote – but I don't need to be as everyone has the power to make their own foodie decisions. As a Gut Expert, my wish is that YOU have enough information to make informed decisions about what impacts your health. Whether you choose Nigella's recipe or this Bressert, I hope you enjoy it and feel wonderful afterwards.