Help Your Leaky Gut Using This Crunchy Breakfast Granola Recipe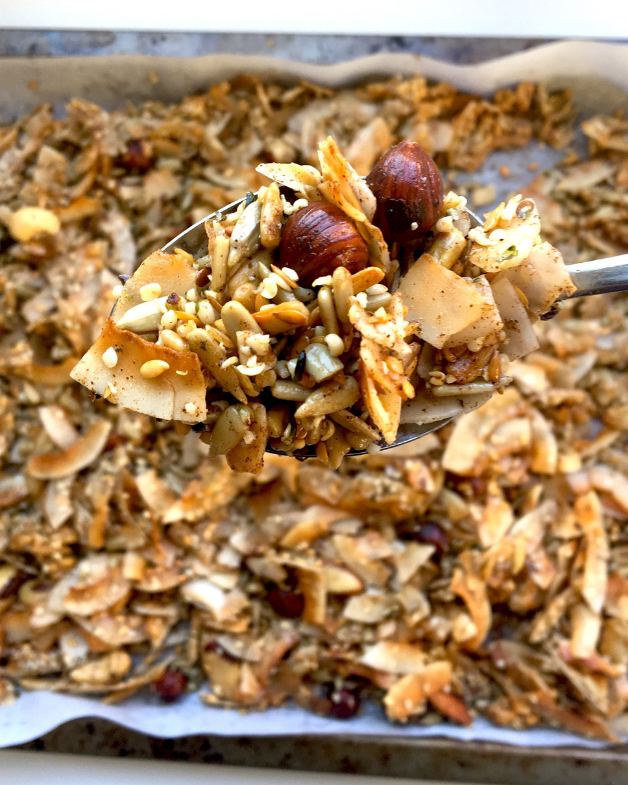 Breakfast granola is delicious.
But, it's usually a no-no if you're trying to treat leaky gut.

Why?
Because many granolas are made from ingredients that 'hurt' your gut and leave you feeling bloated, fatigued and looking for the nearest toilet.
This Crunchy Breakfast Granola recipe is different though.
It's extraordinarily good for gut healing and can even help you treat leaky gut syndrome.
As a Gut Expert and Naturopath in Melbourne who regularly treats leaky gut, I assure you that this recipe is loaded with tasty, gut-loving ingredients that are easy to digest, suitable for those with food intolerances and, of course, is appropriate for anyone dealing with leaky gut syndrome.
 
One reason this Crunchy Breakfast Granola is so good at helping to treat leaky gut is because it's low carb, high protein, and free from gluten, dairy, refined sugar and fructose.
Another reason – and this is a biggie - is because many of the ingredients in this recipe help to increase the good bacteria in your gut, thereby helping to crowd out the negative microbes that make you feel yuk.
That's why, as a Gut Expert, I'm proud to share this gut-friendly recipe with you, and trust that you'll love adding it to yoghurt, fruit, porridge or smoothie bowls.
Crunchy Breakfast Granola
Ingredients
3 C coconut flakes

1 C mixed raw nuts 

1 C sunflower seeds

1/2 C hemp seeds

1/4 C linseeds

1 tsp cinnamon 

1/4 tsp nutmeg

1/4 tsp allspice

1/4 C coconut oil, melted

1 Tbsp rice malt syrup (optional if you prefer a sweetener granola)

pinch of salt (optional)
Method
Combine all ingredients into a bowl and mix together until combined.

Lay mixture thinly on a large flat baking tray that is lined with baking paper. 

Bake in the oven for 20 min on 150'C, gently stirring every 5 or so minutes, to ensure an even bake. 

When cooled, place in an airtight container and store in the pantry or fridge.
Once you try this Crunchy Breakfast Granola, you'll realise it is possible to eat delicious granola and feel good in your gut afterwards.
If you're keen to try this recipe and are struggling with a leaky gut - or have been curious if you have a leaky gut yourself, I can help.
I'd love to help YOU reach optimum health and will be happy to tell you more about my Bloated to Body Confident course.