Easy Apricot and Coconut Energy Bars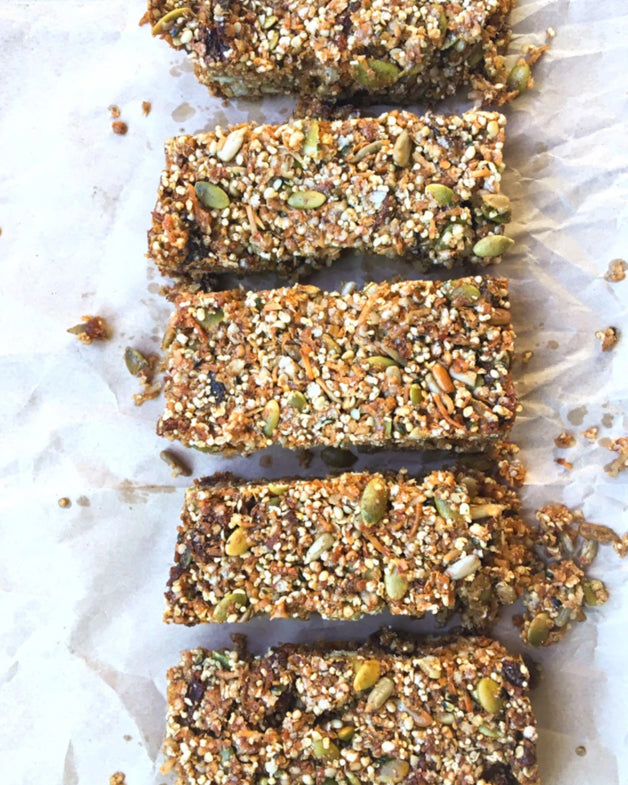 As a holistic gut health expert, I am always looking for more ways to get more fibre in the diet. Too often the high fibre snacks we see in supermarkets are laden with refined and fake sugars like glucose syrup and high fructose corn syrup. These sugars can feed the bacteria and yeasts you are trying to avoid feeding in your effort to eat more fibre.
These bars are gluten, dairy free and nut free and are vegan friendly. Cut them into pieces as big or small as you like, so you can create it as small snack, or something bigger when you really need your energy.
By using less sugar syrups these bars are more crumbly in texture, if you find you make them too crumbly and they break, they can used as a delicious fruit or yoghurt topper. 
All of these ingredients are available at good health food stores and many supermarkets.
Enjoy!
Ingredients
1 ½ C quinoa flakes
½ C puffed amaranth 
1 C shredded coconut 
½ C hemp seeds
½ C sunflower seeds
½ C pepitas/pumpkin seeds
2 tsp cinnamon
½ C diced apricots*
¾ C coconut oil 
¼ C tahini 
4 Tbsp rice malt syrup (can use honey, or both at a 1:1 ratio)
* Can substitute for cranberries, sultanas, or another dried fruit of choice.

Method
Preheat oven to 150°C fan forced
Place all dry ingredients (except diced apricots) in a big mixing bowl
In a small saucepan heat up coconut oil, tahini and rice malt syrup and apricots on a medium heat for 5 minutes until it is warmed through, and apricots start to break up. Do not bring to boil
Pour liquid into the bowl of dry ingredients and mix well until combined
Pour mixture into a 2 medium-sized, lined baking tray and press down until firm. The thickness of the mixture should be approximately 1.5cm thick
Bake in the oven for 25-35 minutes until firm and brown
When cooled, remove from pan and cut into your desired sized bars.
Keep in an airtight container or freeze