Baked Tempeh with Crunchy Peanut Sauce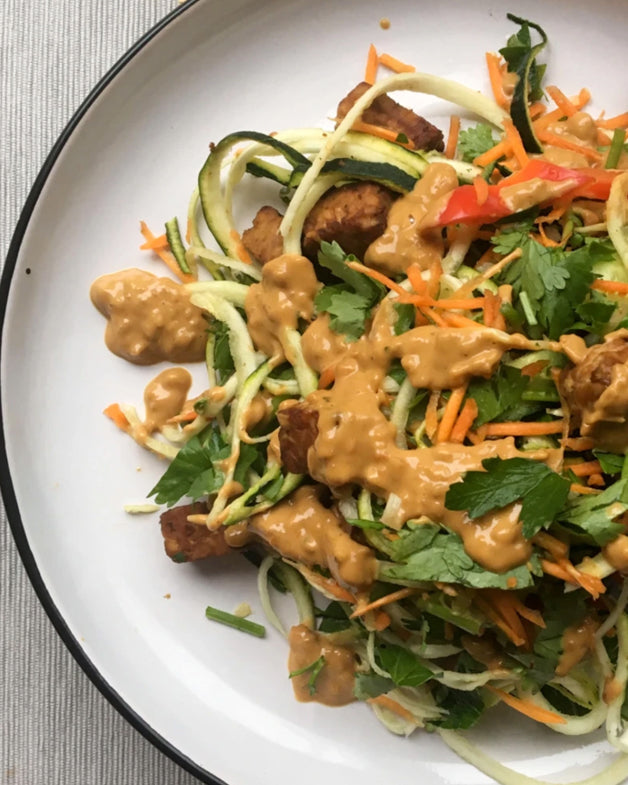 Melbourne is a cultural melting pot of cuisines with so many new and exotic ingredients to explore. As a gut health naturopath, I am big advocate of plant-based eating, so I want to introduce you to (potentially) one of your new favourite foods, tempeh.
What is tempeh and what is it made of?
Tempeh is a traditional, fermented product made from legume seeds (commonly soy) which originates from Indonesia. Rhizopus oligosporus fungus strains are used most commonly in the fermentation of tempeh.
Is this tempeh good for my gut health?
Of course, tempeh has many gut benefits. One study found soy tempeh to have antibacterial properties against Bacillus subtilis and an ability to stimulate the growth of beneficial bacteria including Escherichia coli, Lactobacillus acidophilus and Lactobacillus paracasei and bacteria from the Bifidobacterium family. It is also thought to help prevent diarrhoea, which may be due to its role in stimulating good bacteria (1).
To help introduce you to the world of tempeh, here is a fresh and delicious healthy recipe that is vegan friendly, gluten-free and dairy-free.


Serves 4


Ingredients
300 g tempeh
4 Tbsp tamari
2 tsp olive oil
1/2 C natural peanut butter
1 lime, juiced
1 tsp grated ginger
1 small shallot, finely diced
1 clove garlic, crushed
1/4 tsp cayenne pepper, optional
1 Tbsp water + extra as needed for desired consistency
1 C raw carrot, grated
1 raw zucchini, spiralised or grated
10 cm of cucumber, thinly sliced
1 C fresh coriander, chopped roughly
1 C fresh parsley, chopped roughly
salt and pepper to taste



Method
Preheat oven to 180°C fan forced.

Cut tempeh into small cubes and place in a bowl. Add 2 tablespoon tamari and olive oil and marinade for 10-15 minutes.
Place tempeh on lined baking tray and bake for 20 or until golden brown.
In a bowl add peanut butter, 2 tablespoon tamari, 1 tablespoon water, lime juice, ginger, garlic, shallot and chilli and stir until combined. Add water or more tamari to achieve desired consistency. Add salt and pepper to taste.
In a separate large bowl add carrot, zucchini, cucumber, coriander and parsley.
Once tempeh is cooked, add to salad bowl toss until combined.
Serve salad and tempeh, and top with as much or as little peanut sauce as you desire.

Tip: Rice vermicelli noodles go well with this dish if you are feeling like something a little more substantial!