Guilt-Free Chocolate Hazelnut Truffles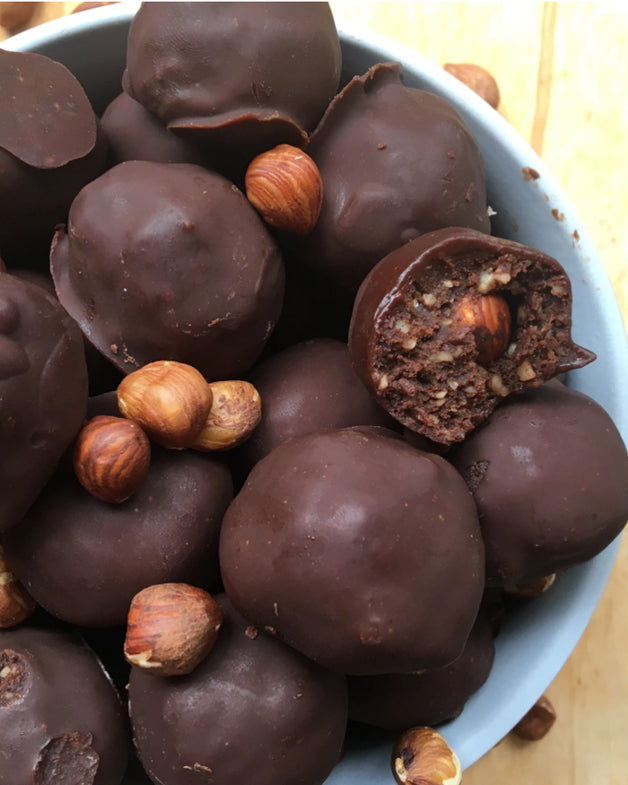 Based on one of my all time favourite chocolates, Ferrero Rocher, I wanted to see if I could make some just as delicious but with a gut health naturopath spin using whole ingredients free from refined sugar, additives, preservatives and palm oil, commonly found in store bought chocolate.
And I nailed it.
This recipe also had some added perks of being gluten free, soy free and vegan friendly and paleo friendly. Enjoy! 
Makes 28-32 truffles


Ingredients
 Centre
28-32 whole raw hazelnuts
Filling
2 C hazelnut meal

1 C dried dates, soaked in water for 10 minutes

1/4 C coconut oil

2/3 C raw cacao powder

1 Tbsp maple syrup

Pinch of Himalayan salt
Coating
1/2 C cacao butter, melted

1/3 C cacao powder

1/4 C maple syrup.

Pinch of Himalayan salt



Method
To make the filling, combine hazelnut meal, dates, coconut oil, cacao powder, maple syrup and salt and blend in a food processor into a smooth paste.

Individually encase the paste around a whole hazelnut and roll into a ball. Put on a tray and place in the freezer to set for 15 minutes.

Remove balls from freezer and roll again to ensure they are completely smooth, place back in the freezer for 15 minutes.

To make the chocolate coating, add cacao butter, cacao powder, maple syrup and salt stir until combined. My advice is to add maple syrup gradually, tasting as you go as you may not need as much depending on your sweet tolerance.

Remove the balls from the freezer and use a fork to dip them into chocolate coating mix**. Ensure you coat the entire ball in the chocolate. Place the coated balls on a tray and place back in the freezer for 10 minutes and then move to the fridge for another 30 minutes.

They are now ready to enjoy. These can be stored in the fridge for up to two weeks, or indefinitely in the freezer.
Tip: Keep the chocolate mix warm and runny by sitting the chocolate bowl in a bowl of boiling water.