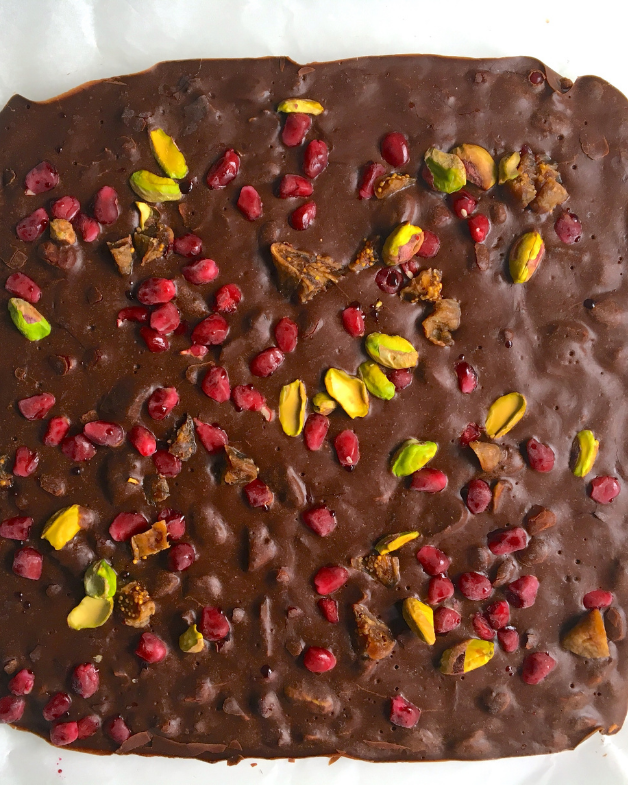 As a holistic gut health expert, I am all about recreating some of my favourite treats to be healthier without compromising on taste. It's fun and I love the challenge.
This raw chocolate recipe is, hands down, an absolute favourite of mine. Created to be easy and quick to make and, of course, delicious. It is refined sugar, gluten and dairy free and vegan friendly - winning!
Best thing of all, each time I make it, I can make a completely different flavour, can change the bitterness (more cacao) or make it sweeter. Anything is possible!
Ingredients
1/2 C cacao butter

1/2 C coconut oil

1/4 C tahini

1/4 C rice malt syrup

3/4 C raw cacao powder

salt to taste (optional)

Toppings of choice which may include hazelnuts, peppermint or orange oil (2-4 drops), dried fruit, coconut flakes, flaked almonds, activated buckwheat, roasted pistachios etc.
Method
In a small saucepan, melt cacao butter and coconut oil on a low to medium heat until melted. Do not bring to boil.

Add in rice malt syrup, tahini and salt and stir until combined. 

Whisk in cacao powder until smooth.

Pour mixture into silicon moulds or into a lined container or tray

Sprinkle toppings of choice onto chocolate. Note: if using essential oil such as peppermint, add 3-4 drops whilst in the saucepan.

Place container/moulds/tray into the fridge for 2 hours or until set.

Best stored in the fridge or freezer in an airtight container.