Pomegranate and Quinoa Salad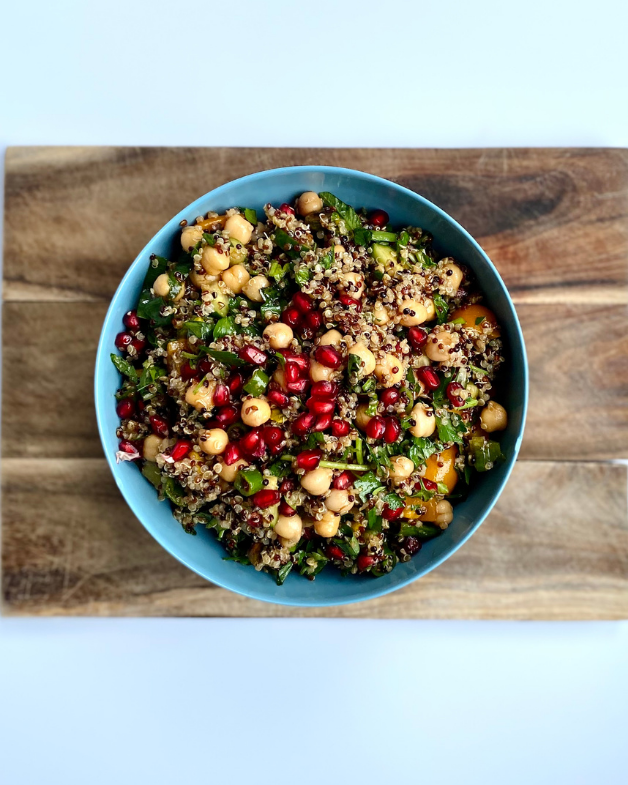 Salads don't have to be boring, in fact if you find salad boring, you're doing it wrong.
You can have so much fun with fresh vibrant vegetables paired with wholesome grains and simply delicious dressings, the days of just having lettuce and tomato are well and truly over.
This salad celebrates everything fresh and Summer and is the perfect combination of feeling full without feeling 'stuffed' so you can still continue basking in the sun or swimming in the pool without feeling like a whale. 
That's the dream, right?!
As a naturopath and gut specialist based in Melbourne, I created this with food intolerances/allergies in mind, so it's perfect for those needing a yummy gluten and dairy free healthy salad. (Plus it's vegan optional) 
It's got a tonne of fibre in it, so your gut bugs will love it!
If you suffer from bloating I have a few adaptations below the method for you to make it more tolerable for your tummy.
Ingredients
2 1/2 C quinoa, cooked (or 1 C raw + 2 C water)

1 Tbsp Gevity Rx Bone Broth Body Glue - Natural (optional if vegan)

3/4 C mint, roughly chopped

3/4 C parsley, roughly chopped

1/2 C cherry tomatoes, quartered

2 spring onions, finely chopped

1/4 C

extra-virgin olive oil

1 heaped tsp dijon mustard
To cook the quinoa place the raw quinoa, water and (optional)

Gevity Rx Bone Broth Body Glue - Natural and bring to boil. Once boiling point is reached reduce, cover and simmer until almost all of the liquid has been absorbed and evaporated. Take off the lid for a few more minutes until all liquid is gone and you are left with fluffy quinoa

In a large bowl add cooked quinoa, pomegranate, chickpeas, pistachios, mint, parsley, cherry tomatoes, spring onions and cucumber and stir until combined

In a small bowl add garlic, honey, balsamic vinegar,

extra-virgin olive oil, dijon mustard and salt and pepper and whisk until combined.

Poor dressing over salad when ready to serve and mix until dressing evenly coats the salad.

Serve by itself or as a delicious side.
Substitute the garlic with 2 tsp garlic infused extra-virgin olive oil from Cobram Estate

Use only the greens of spring onions, rather the whole onion

Keep your portion so that you only have 1/4 cup worth of chickpeas

Honey can be replaced with rice malt syrup